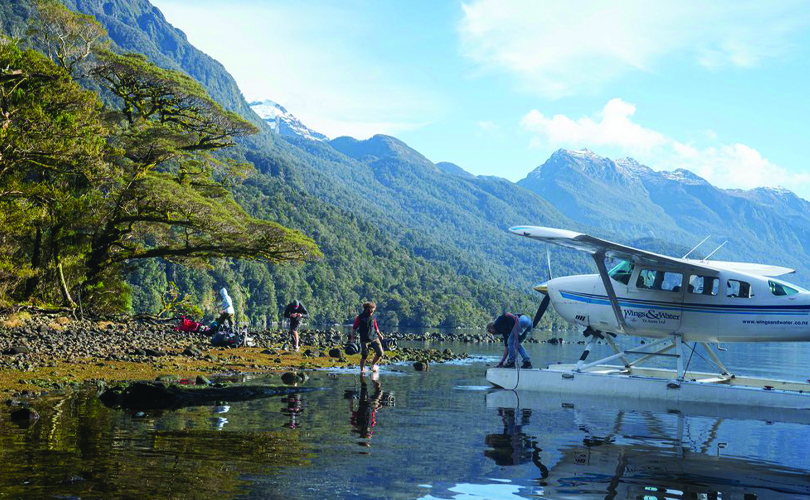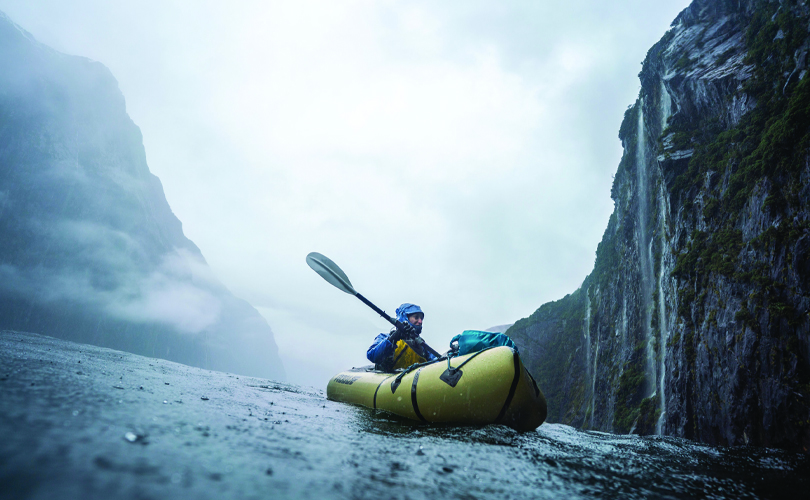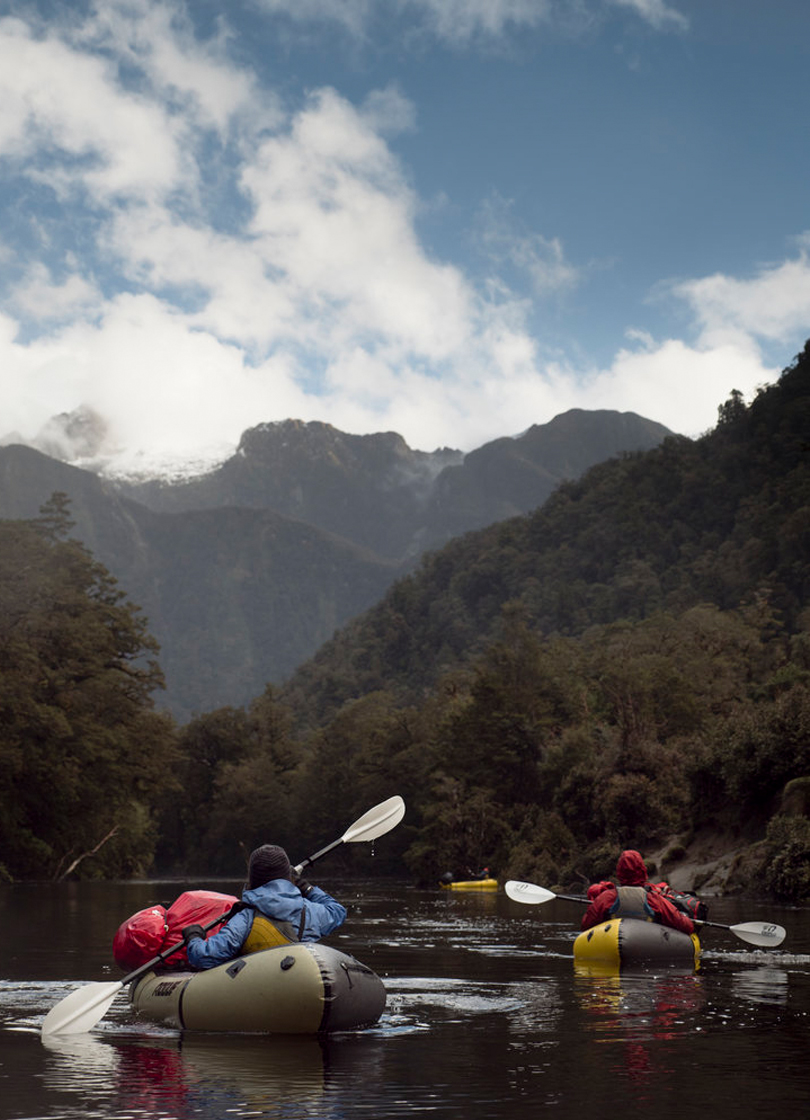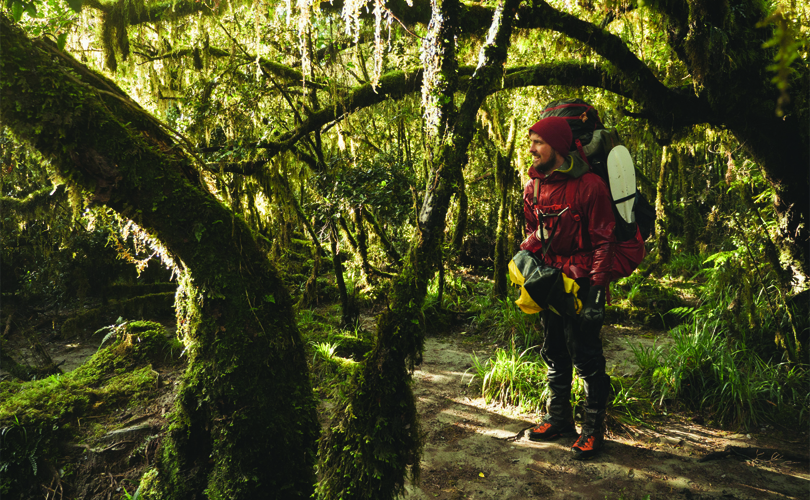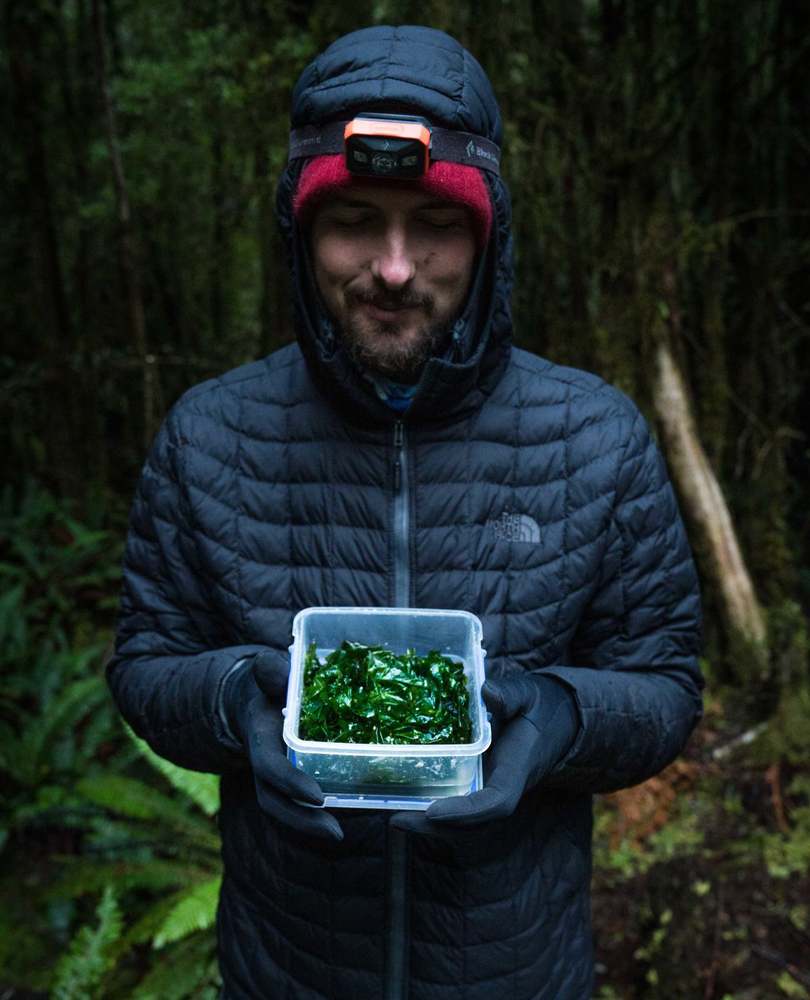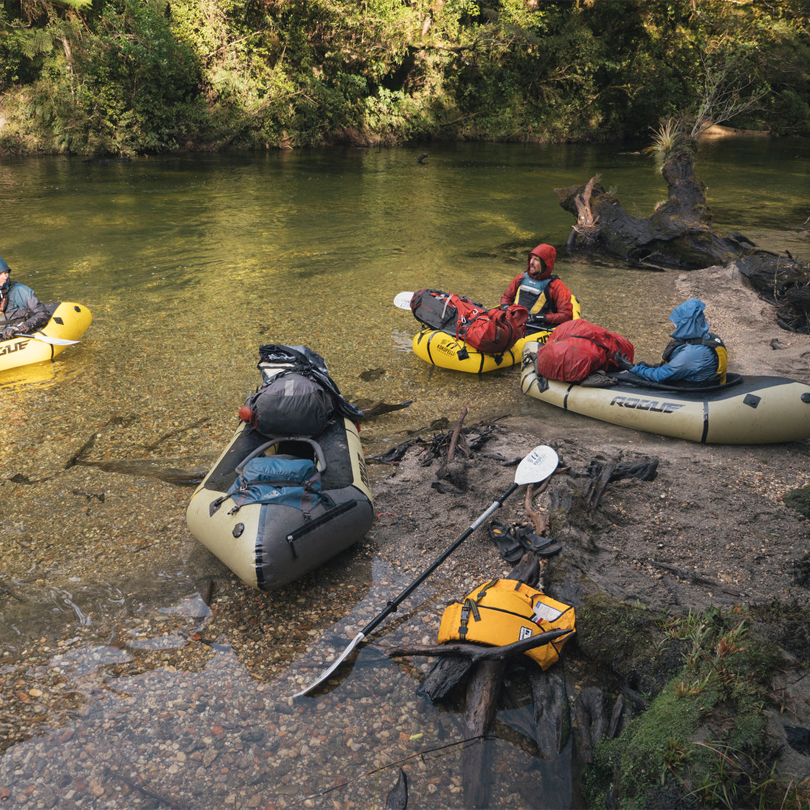 09/10/2019
TOUR DE FIORDS: A LESSON IN VISION & SELF-BELIEF
Written by Mitchell Scanlan-Bloor | Originally appeard on The North Face
In July 2018, a team of four set out to cover the wild territory between Milford Sound and Doubtful Sound on New Zealand's South Island by foot and packraft. The team consisted of a ragtag crew of every day adventurers, each bringing their own strengths to the team - Mitchell Scanlan-Bloor, Coralie Fleming, Nick Whitelaw and Dan Haley. After a tumultuous time in the Fiordland, and time to reflect on return, Mitchell Scanlan-Bloor recounts what happened along the way.
It was a surreal feeling to find myself standing on the pebbly beach of George Sound, a place I'd only imagined from map contours and satellite imagery. Towering snow capped mountains, dark glassy waters of the sheltered bay, and the echoing rumble of distant icy waterfalls made for an enchanting first impression.
Like many a grand adventure, it's often a long hard road just to get to the starting line and our journey was no different. From a pipedream plan concocted over beers, to the late night research, and months of training, just to finally take those first steps into New Zealand's Fiordland. In those first moments on the beach at George Sound all the stress and worry just melted away and I knew we were in for a proper wild adventure.
The goal - to combine our passions of spearfishing, hiking and paddling into a human powered journey, unsupported and supplementing our diet with what we could harvest along the way. The idea of deepening our connection with our food source through diving gave us a new way to experience the environment. We were excited to explore as part of the ecosystem, rather than just superimposing ourselves over the top of it. We called it through-hike-spear-rafting, but even we're not convinced the name will stick!
Fiordland wasn't actually our first choice for the trip, but Malbourough Sounds for its abundance in sea life. The more I researched New Zealand's coastline I couldn't help but be drawn in by the rugged topography of Fiordland. Untouched wilderness, remote, pristine marine life and a long history of explorers and hunters alike getting shut down by unpredictable conditions and fragile weather windows - a guaranteed adventure. We were sold. Some 200km of coastline separated the only two points of easy access, Milford Sound and Doubtful Sound. It seemed obvious to me - start in one and aim for the other. By combining paddling, hiking and spearfishing, we could experience all the environments that Fiordland boasted. Our love of multi-sport adventures had won us over again, and with that the idea to through-hike-spear-raft Fiordland was born.
Starting to grasp the magnitude of such a journey, we knew we needed more support. At the last minute we submitted an application for The North Face Adventure Grant 2018 and to our great disbelief we won! Knowing that a brand that supports the adventurers we were inspired by would be backing us 'everyday-adventurers' was a huge honour and their support launched us forward with a new wave of excitement and passion.
After weighing up all our options, we discovered the weird and wonderful sport of packrafting. An inflatable boat that weighs only a few kilos and capable of paddling some serious white water? It sounded too good to be true. By combining hiking with paddling we could surely tackle the geographical challenges of Fiordland and access some remote patches of wilderness that would be inaccessible if we had committed to either hiking or kayaking. We pitched our mad plan to Kokopelli, who supplied us with their brand-spanking new Rogue packrafts and 4-piece paddles to get us on our way.
Inventing a whole new adventure sport sub-discipline didn't come without its challenges. We needed a team of competent paddlers, hikers, spearfishermen, filmmakers and adventure all-rounders to get on board. We needed to create a team of skilled people to turn this dream into a reality. Our first attempt at creating a team of multi-skilled dreamers ended in ruins when three of our original team-members had to withdraw from the expedition due to injuries and work commitments with only two months to go. Luckily for us, the adventure scene is full of crazy dreamers who love wild places so, Coralie and I tempted old friends Nick Whitelaw and Dan Haley at the eleventh hour and we were good to go. 


Soon enough we found ourselves crowded around a laptop in Te Anau, watching the weather forecast deteriorate. As the freezing July rain beat down on the roof of our cabin, we took in the hard reality of our situation. The road to Milford Sound, our starting point, was closed due to high avalanche risk. Even if we did make it through, the wind and swell would make the most dangerous leg of our route truly life-threatening. With our time in New Zealand running out, we opted for our contingency plan - take a seaplane into George Sound, our halfway point and continue on from there. A thousand phone calls later we manage to organise a last minute flight and finally we were getting there.
It was magical. Golden light shone through the peaks as the roar of the seaplane faded through the valley. Above us were walls of thick jungle that turned to alpine grass then granite faces powdered in snow. We were isolated in the middle of nowhere, and it was awesome. We'd made it.
The following weeks were equal parts wonder and hardship. We began our journey exploring the waters in George Sound, diving between giant feathery columns of white coral to bring home feasts of blue cod, mussels and sea lettuce. After settling into Fiordland life for a few days, we paddled around the horseshoe bay to begin our overland journey to Caswell Sound. This was where the madness truly began. Apocalyptic rain beat down on us as we inched our bodies and 40kg packs up the steep terrain. Spontaneous rivers and lakes stopped us in our tracks and we were forced into one boggy camp to the next. The forest was a sodden tangle of life and death. Everything seemed to be equally thriving and decaying, intertwined and moulded together with a fabric of sphagnum moss. Each step would sink a foot into the pulp of a tree, mud, or nameless greenery. It was beautiful, but damn it made hiking hard. With only the odd game trail to make a path, we were grateful to arrive on the shore of the Stillwater River.
Inflating our packrafts and letting the gentle current pull us down the valley was such a welcome luxury. In a few short hours we'd traveled further than the previous days combined. Quickly the river began to steepen and we were forced to hike again for two days to avoid a pumping canyon. Again, we were held up by lakes and rivers that popped up out of the blue with the heavy rain. After five sodden days on a section we'd figured would take two - we pulled into Caswell Sound with our tails between our legs.
There was no hiding from the fact that we were behind schedule and getting beat down in that terrain. A hike through the Malborough Sounds vineyard was sounding like it could have been a better option at this point. We took a rest day in Caswell and took stock. Our long overland journey had taken its toll on our food supply as we couldn't add to it with our seafood catch. We eventually faced the decision to push on when we were under-fueled and beaten down from weeks of bad weather, or explore from a base camp in Caswell to then withdraw by seaplane to tackle the first leg we'd skipped in Milford Sound as one last hurrah. Humbled by Fiordland, we decided to withdraw after almost two weeks of living out a wild pipedream.
I could write forever on the things we learned, but a few key lessons;
You will never prepared enough, but don't let that stop you from trying because you'll never get to the starting line otherwise.

The people you journey with can make or 

break it, so choose wisely.

Be familiar and fast with every piece of gear you own.

Eat more lard. Having a few extra kilograms is a nice buffer when you're about to be underfed for a few weeks.

Don't listen to people who say that the sandflies go away in winter.

Spraying insect repellent on your butt makes for a significantly more enjoyable experience when doing a number two around sandflies.
There's a bird call that I sometimes hear out the window of my office and it instantly takes me back to my Fiordland memories. It's slightly reminiscent of a weka call, which is a flightless bird about the size of a chicken that would strut around our camps and pick at fish scraps. Every time I hear it, it makes me smile and I think about heading back there and having another crack, this time wiser and stronger. Maybe one day?
At the very least it's added fuel to a fire for more adventures of a similar tone, combining the ocean and mountains whilst living off the land. The journey was a valuable lesson in vision and self-belief, and something that I wholeheartedly encourage everyone to pursue. Chase the psyche and it will lead you well.